Welcome to Polo Club Hills and Cherry Creek
Polo Club has long been one of Denver's most prestigious residential areas. Originally polo ponies cantered over the terrain of this country club community. Four young millionaires had then joined forces to purchase a 160-acre tract of land for their polo matches; and the club was completed in 1926. Some of Denver's finest families quickly relocated from the Denver Country Club residences to the Polo Grounds.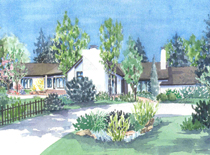 Today, the ponies have left, but the privacy of spacious, elegant home sites endures in this luxurious urban neighborhood where fabulous homes sit on 1/2 to over 2 acre lots.

Neighborhood Boundaries
North – Alameda Avenue
South – Exposition Avenue
East – Steele Street
West – South University Boulevard
Distance to
Denver Tech Center: 8 mi (13 min.)
Downtown Denver: 8 mi (15 min.)
Cherry Creek North: 2 mi (5 min.)
Property Taxes
Denver Property Tax Rate: Approx. .6% of actual value (eg: Actual value: $1,000,000 Property taxes: $6,000)
Cherry Creek is an upscale, dynamic pedestrian neighborhood where ultra-modern, exquisite luxury townhomes co-exist with charming, tree-framed, bungalows. Residents can jog, ride their bicycles and roller blade along the creek; sample the fare a a wide range of tony restaurants.
Relax at an outdoor cafe; or shop at the magnificent Cherry Creek Shopping Center, anchored by Saks 5th Avenue and Neiman Marcus, or at one of the dozens of eclectic shops and boutiques in Cherry Creek North.
Neighborhood Boundaries
North – 6th Avenue
South – Alameda Boulevard
East – Colorado Boulevard
West – University
Distance to
Denver Tech Center: 9 mi. (14 min.)
Downtown Denver: 3.5 mi. (10 min.)
Cherry Creek North: 0 mi. (0 min.)
Property Taxes
Denver Property Tax Rate: Approx. .6% of actual value (eg: Actual value: $1,000,000 Property taxes: $6,000)