Washington Park Real Estate, Washington Park homes, Denver Washington Park
Washington Park Neighborhood Overview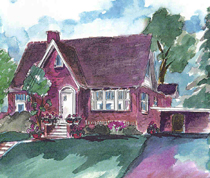 Washington Park is a charming, distinctive old Denver neighborhood with mature shade trees, quiet streets, and well-cared-for bungalow and tudor style homes. At the center of the neighborhood is a beautiful 161-acre park containing two large lakes, tennis courts, a boat-house, a recreational center, flower gardens, picnic areas and a playground. From bikers and roller-bladers to runners, walkers and picnickers, the park is a sanctuary for residents and Denverites of all ages.
Housing
Average lot size: 4,750 – 6,250 sqft. Average size home: Bungalows and tudors = 950 -1,300 sqft. (not incl. basement)
New Construction: 2,100 – 2,450 sqft. (not incl. basement)
Current New Projects: Colorado Land is developing block adjacent to United Methodist Church – to be single family houses, flats and walk-up brownstones.
Neighborhood Boundaries
North – Alameda
South – I-25
East – University
West – Lincoln
Distance to
Denver Tech Center: 8 mi (13 min.)
Downtown Denver: 8 mi (15 min.)
Cherry Creek North: 2 mi (5 min.)
Property Taxes
Denver Property Tax Rate: Approx. .6% of actual value (eg: Actual value: $1,000,000 Property taxes: $6,000)
View Interactive Map
Active Real Estate for Sale in Washington Park
Didn't Find What You Were Looking For?
Get instant email updates on the newest listings that meet your criteria and never miss a listing!
A 100% FREE Service
Define Your Criteria and Start Your Search Now
Washington Park Neighborhood Schools
Recreation
Premier Public Golf Courses
Arrowhead Golf Club
Omni-Interlocken Golf Course
Vista Ridge
The Ridge at Castle Pines
Premier Private Golf Courses
Cherry Creek Country Club
Cherry Hills Country Club
Columbine Country Club
Denver Country Club
Glenmoor Country Club
Valley Country Club
Neighborhood Parks
Washington Park
Bonnie Brae Park
Cherry Creek Bike Path
Places of Worship
6th Avenue United Church
3205 E. 6th Avenue
303.377.0173
Eighth Avenue Baptist Church
303.320.4944
Bonnie Brae Baptist Church
700 Bonnie Brae Blvd.
303.722.7611
Central Christian Church
3690 Cherry Creek Drive South
303.744.1015
Cherry Creek Community Church
366 Garfield
303.321.3904
Christ Church United Methodist
690 Colorado Blvd.
303.322.7706
Epiphany Episcopal Church
100 Colorado Boulevard
303.321.0813
Good Shepherd Catholic School Catholic Church
2626 E. 7th Avenue
303.322.7706
Grace Lutheran Church
875 Forest
303.388.9347
Jehovah's Witnesses
203 Jackson
303.377.6830
Lowry Community Christian
952 Willow
303.364.7146
St. Augustine Orthodox Church
P.O. Box 9913
303.698.2433
Temple Emanuel
51 Grape Street
303.321.7258